Fees associated with case listings provided by CRGC differs for non-patient contact studies (de-identified), patient contact studies, and for Early Case Ascertainment (ECA) cases.
Up to 2,000 cases will be released at one time.
The cost for non-contact patient studies is $1 for every patient case.
The cost for patient contact studies is $3 for every patient case.
All non-contact patient studies have a minimum fee of $2000. All patient contact studies have a minimum fee of $6,000.
Examples of Fees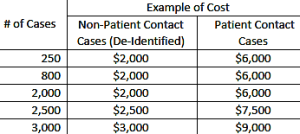 Quotes above are for single selection criteria (e.g., female or diagnosed with breast cancer or Sacramento County). Case availability is dependent on selection criteria. For each additional set of selection criteria, an additional fee of $250 is required, regardless of the number of cases.
ECA case quotes apply to cases that are available within 1 year of diagnosis.
Please contact CRGC staff for a custom quote by emailing: research@crgc-cancer.org