The Cancer Registry of Greater California's mission is to capture timely, high quality data from all cancer patients diagnosed in 48 of California's 58 counties, and to utilize this information for cancer research to improve health outcomes and reduce cancer morbidity and mortality.
---
A Population Science Program of the Public Health Institute:
The Cancer Registry of Greater California (CRGC) systematically collects patient-level cancer data. Its registry database contains more than 3 million cases of cancer.
Of more than 109,000 cases reported to the CRGC in 2020, 21.0% are reported from Hispanic or Latino patients, 7.1% are from the Asian patients, 4.2% are from Black or African American patients, 1.0% are from the Native American, Alaskan, Hawaiian, or Pacific Islander patients. A growing 1.2% are reported from patients who identify with more than one race.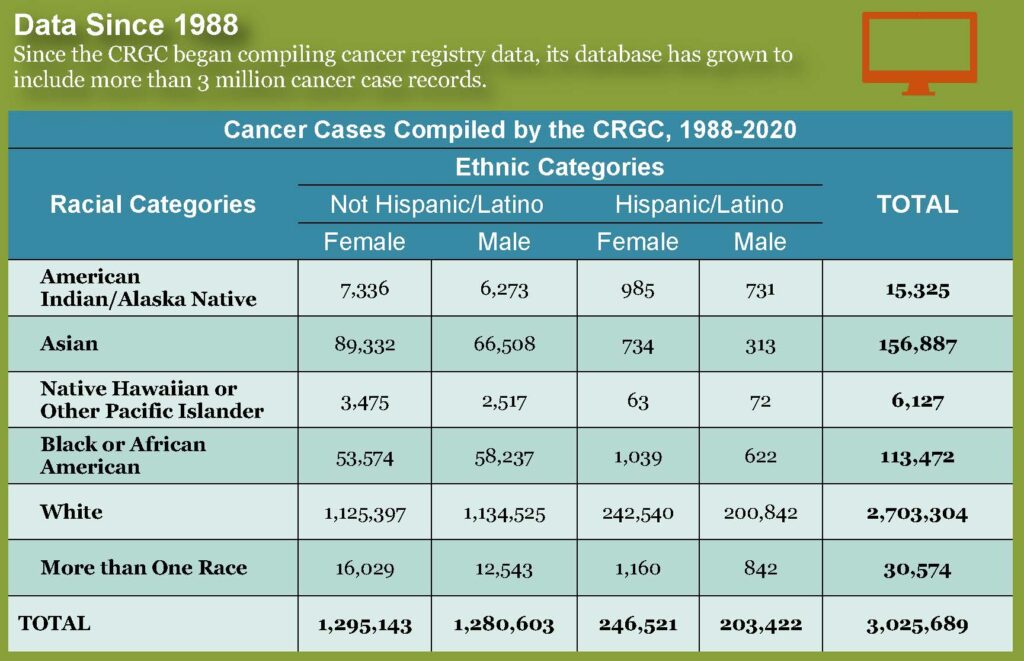 Our Population, Race and Ethnicity:
The data of the CRGC are especially important not only for their high volume and high quality, but also for their reflection of the demographic diversity of Californians who reside in the CRGC region, illustrated in the pie charts below: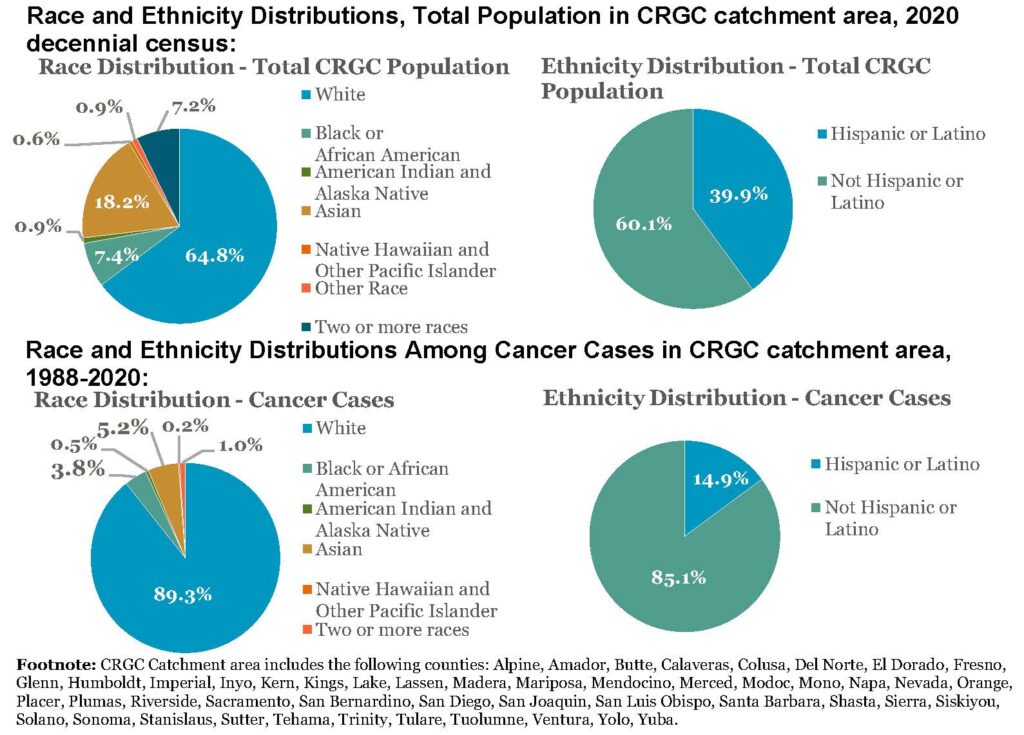 Cancer Reporting in Our Region: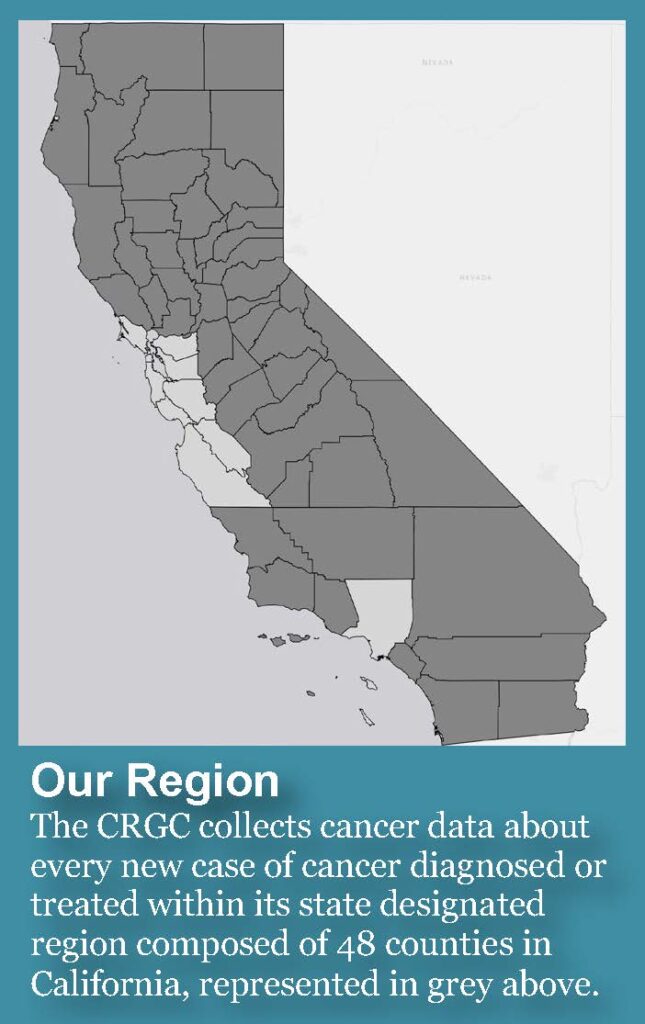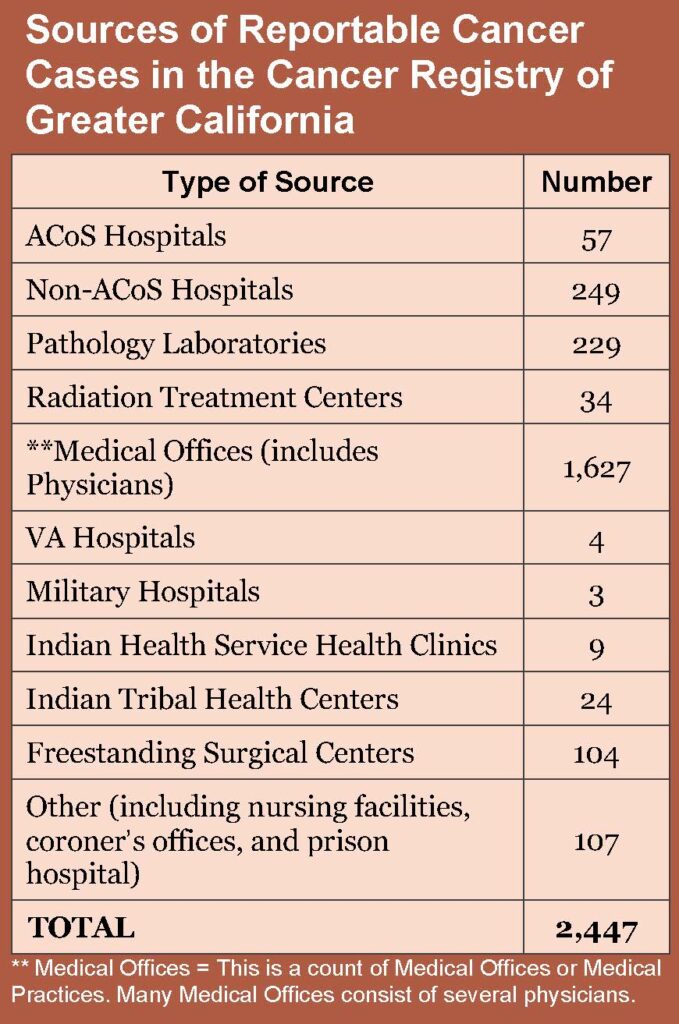 Cancer Registry of Greater California, Public Health Institute, About Us, available at http://crgc-cancer.org/about-us/ (updated May 2023).
Our Logo: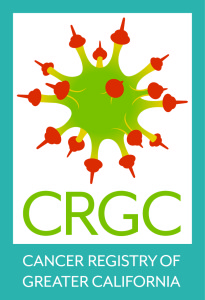 The CRGC logo represents a cancer virus – a symbol portraying the work that we do. Dr. Marta Induni, CRGC Sr. Director of Operations describes, "I like the idea that we are all working together to kill cancer – I think it is an eye- catching and powerful image that shows our tenacity and the strength we have in our collaboration with the registry community at large." The virus, known as GLV-1h68, was modified to target and then kill cancer cells and could increase the effectiveness of chemotherapy. Results have been successful in the lab setting and approval for a clinical trial has been given and will take place sometime soon.

How do we accomplish this goal?
After a patient is diagnosed with cancer at a doctor's office, clinic, or hospital, the diagnosis and patient information is reported to CRGC where a trained certified tumor registrar analyzes the tumor location, size, type, and other information, creating a case file that is entered into a statewide system along with all the other tumors. This valuable data is used by doctors, researchers and other health professionals to inform cancer prevention research, cancer care and treatment, and improve health outcomes.
Cancer cases (excluding basal and squamous cell carcinoma) are mandated by law to be reported to public health authorities. The CRGC is designated by the California Department of Public Health to collect the information for over 90% of the state's geography. Click here for a list of counties covered by the CRGC.
In addition to data collection, the CRGC is responsible for checking the accuracy of the data collected, including identifying and collecting missing data. Data are collected regarding cancer diagnoses and treatment from hospitals, physician offices (M.D.), laboratories and other sources. Quality control checks are performed at the CRGC. Data are compiled for cancer surveillance, to redress community concerns, and to support cancer research.

Recognition: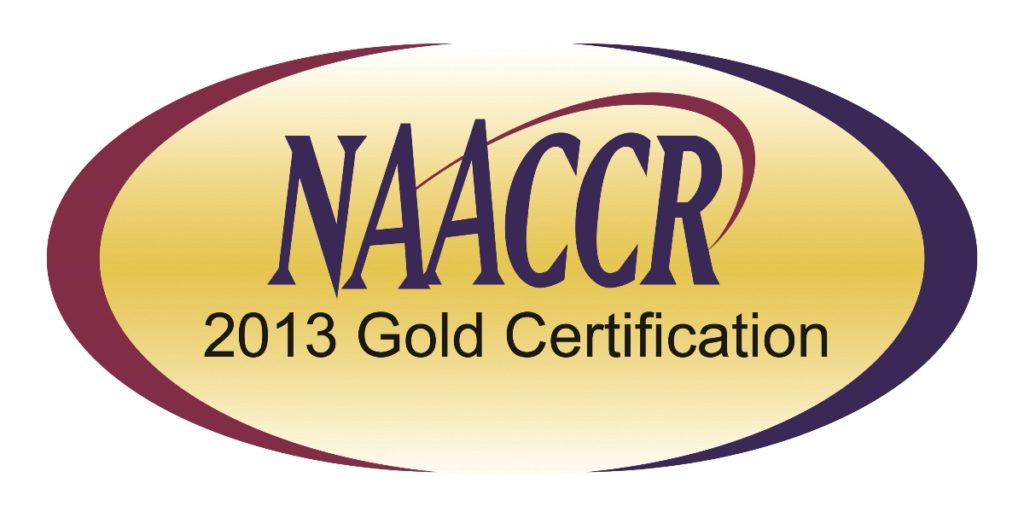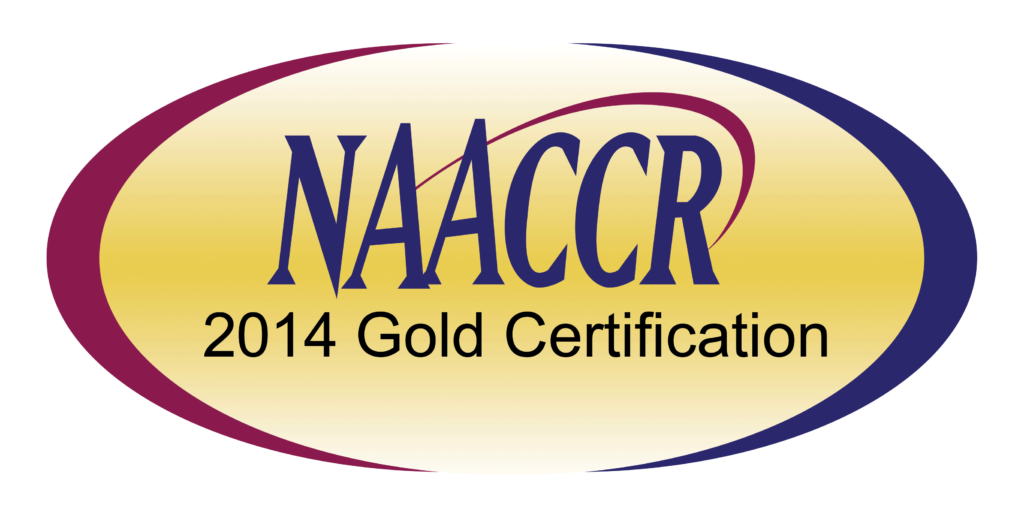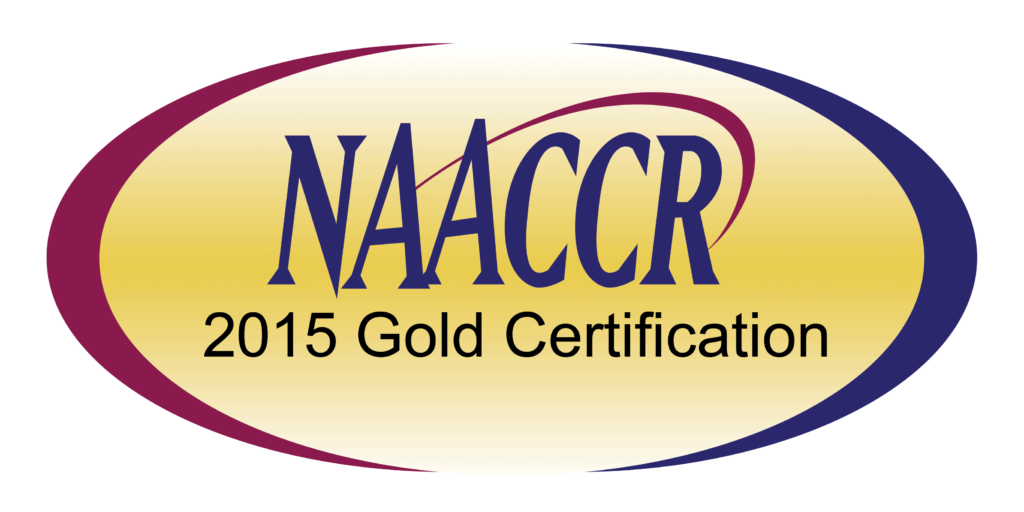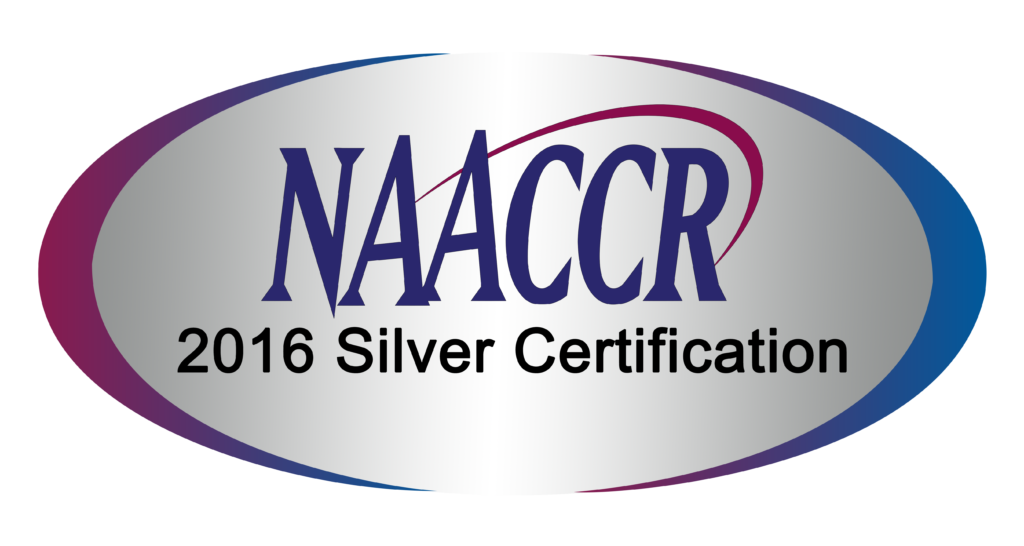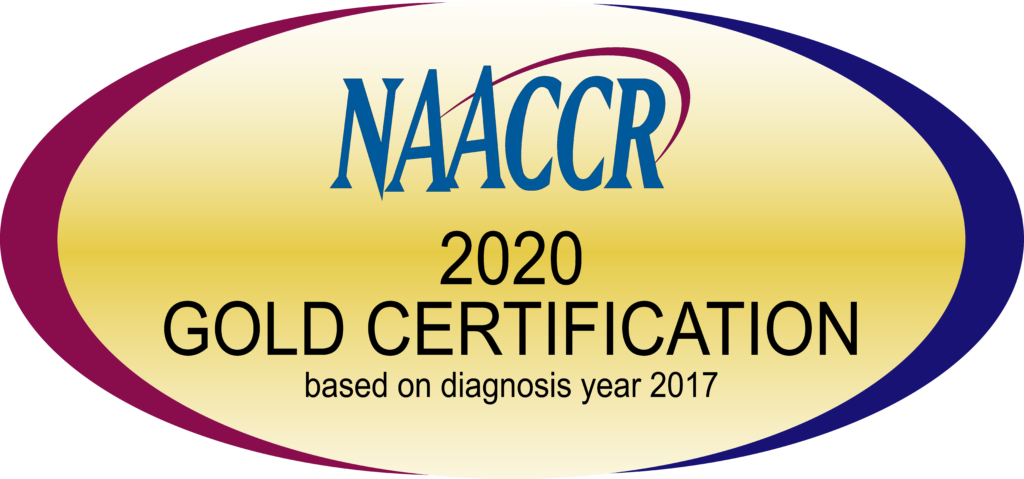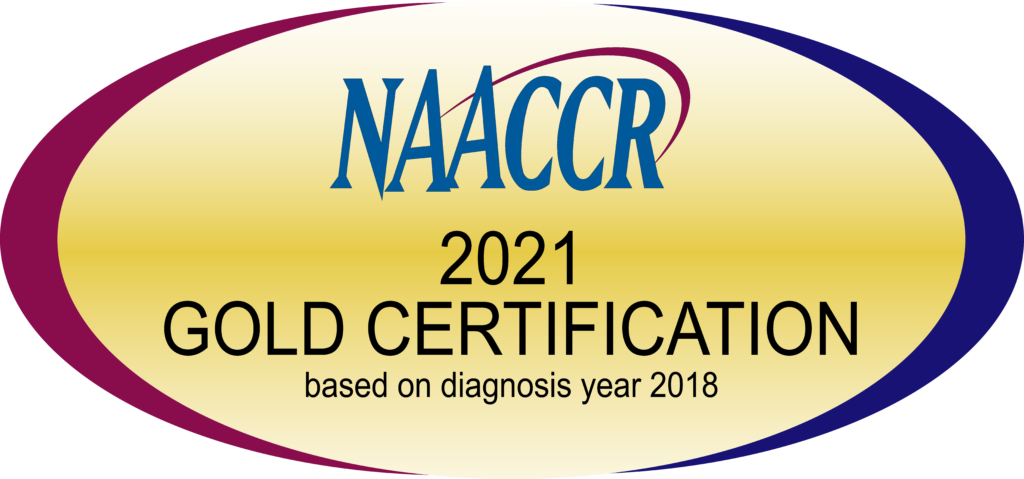 CRGC receives Gold Certification from the North American Association of Central Cancer Registries (NAACCR) for complete, accurate, and timely data!
The CRGC is acknowledges funding from the Surveillance Epidemiology and End Results (SEER) Program of the National Cancer Institute, and the California Cancer Registry of the California Department of Public Health, and is grateful for the support of the National Program of Cancer Registries (NPCR) of the Centers for Disease Control, and the North American Association of Central Cancer Registries (NAACCR).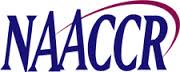 Additional Resources